Our History
Trading Since 1927
In 1883 Robert Clare Baxter was born. He was a remarkable businessman who was behind the huge success of Clare's Department Store. Robert Clare Baxter was born into a poor family in Runcorn and started off working in a drapers at the weekend. He was later promoted to buyer and manager and the owner then helped him set up his own business.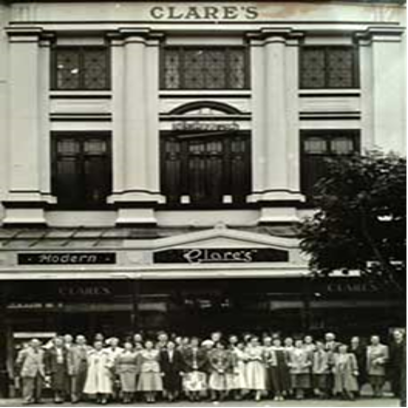 In the early 20th century Clare's premises were occupied by Arthurs Pioneer Stores. Arthurs was taken over by WS Williams of Llanrwst who also owned the Loyal Store on the opposite side of Mostyn St. One of the shops 'main features was the variety of serge's and tweeds spun at Williams own factory in Dolgellau. These could be made up into whatever the customer required – particulary boating, cycling and touring outfits for the ladies.
Clare's Department Store was established in 1927 by the Baxter family. Quickly built a reputation within the community for offering good, friendly reliable service to all their customers. Robert Clare Baxter rebuilt it as the present Clare's Department Store. It became a ladies dressmakers and milliners allowing customers to have access to a respectable fashion store.
When Robert Baxter died, the business was taken over by his son Dougie and grandchildren John and Ann. The business was passed down and continued to operate as a family business. It remained successful and was continually growing and thriving.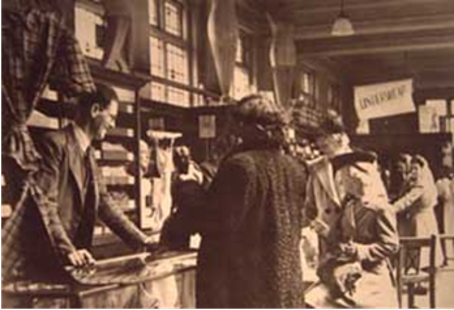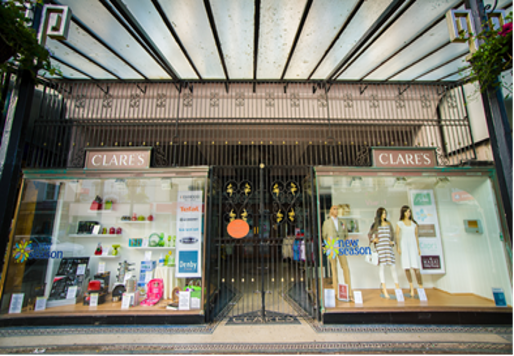 Clare's Department Store was acquired by Ulster Stores in 2002. It was instantly recognised as an exciting opportunity for the future. The store is a well known destination not only for local shoppers but also for the many tourists who visit Llandudno. When Ulster Stores took over the Lamson Pneumatic Device was removed. This whizzed payment by tubes to the cash office and sent back the change. You can still see the original office windows at the back of the GF.
Clares has changed over the years and moved with the times and customers. Today you will find a modern store that manages to balance its traditional heritage values with a range of premium brands. The core values have and always will the customer first. Clares department store has retained as many of the original features as possible. The mosaic outside the front was restored to its former glory. Clares of Llandudno continues to offer exceptional customer service and quality products today and is a must-visit for those new to the area.